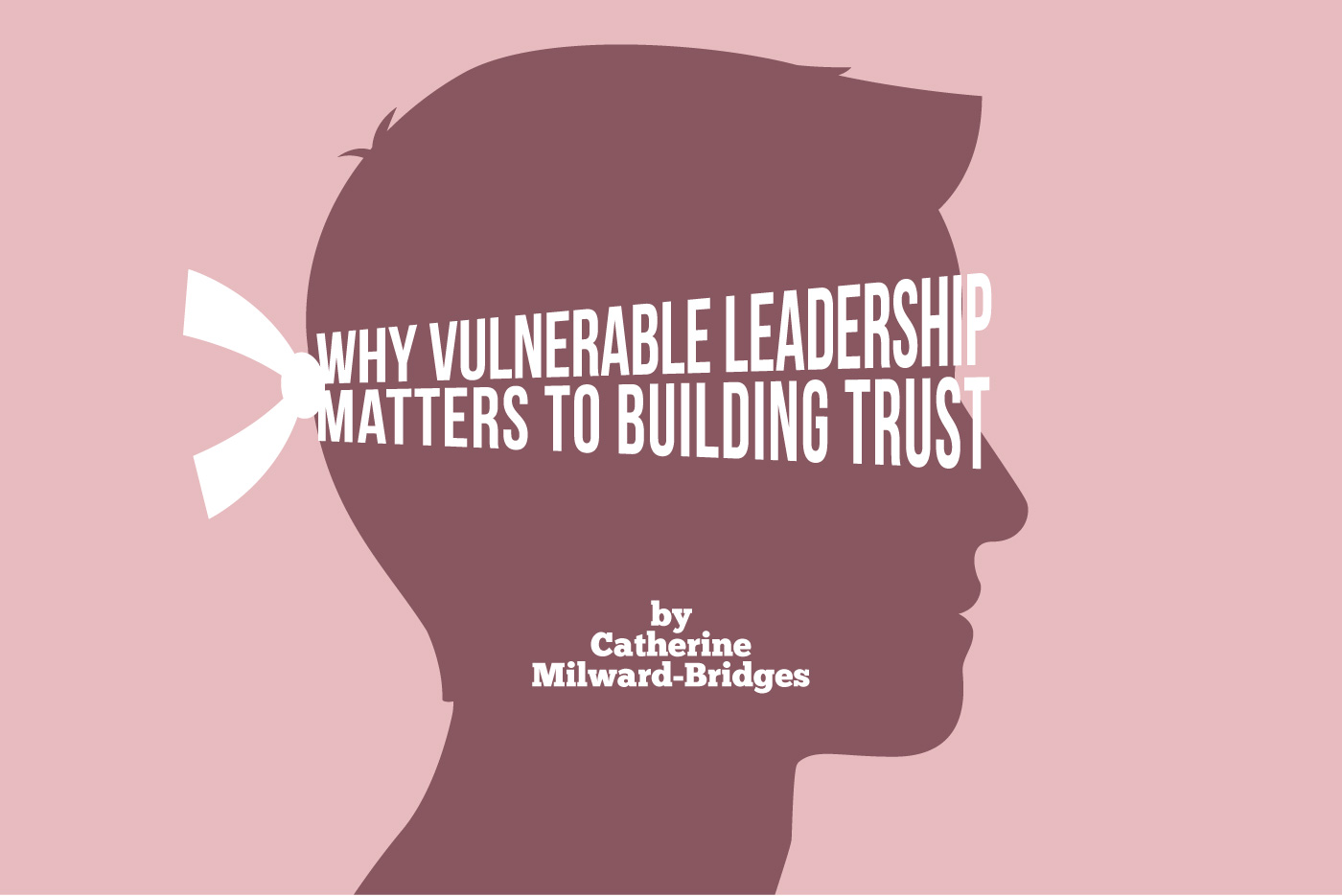 The time has come for leaders to lay themselves bare when it comes to engaging employees and boosting their trust. The good news is, they're in a prime position to pull it off. Catherine Milward-Bridges explores why vulnerable leadership is the strategy CEOs need to win their employees' hearts – and why it's now at the top of the business agenda.
The Edelmen Trust Barometer made an intriguing reveal on the eve of the World Economic Forum in Davos, in January this year: disillusioned by politicians and the media alike, people around the globe are diverting their trust to their employers.
We've come a long way since the cataclysmic effects of the global economic meltdown in 2008, when panic-stricken executives were hauled from the fog of having misconstrued employee engagement as a mere nice-to-have.
This crucial function, which had been largely overlooked until then, was catapulted beyond just being recognised, to becoming the catalyst for employee retention – a critical voice of reason.
In the face of disenchanted employees either jumping ship at the time, or freezing like deer in the headlights, executives turned to internal communications teams to devise and execute crisis communication plans.
Change management became a dreaded but significant phrase, and even the most reticent of executives had to start learning the art of authentic engagement.
A leadership void in the world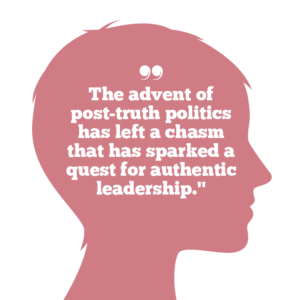 Fast-forward to 2019 and businesses around the globe are revelling in a case of one man's bread being another's poison.
The advent of post-truth politics has systematically whittled away the credibility of political leadership, as well as that of the media.
This has left a chasm that has sparked a quest by civil society for authentic leadership.
They're gravitating towards corporate leadership, as echoed by the findings in the Edelman Trust Barometer.
From the 33,000 opinions received, 75 percent were found to trust their employer more, with government and media votes totalling 48 and 47 percent respectively.
But this is hardly a time for corporate leadership to rest on its laurels. The trust between these leaders and their employees, that has taken all this time to rebuild since the gloom of 2008, will always hinge on a tenuous line (as trust does).
This sector of leadership would do well, therefore, to use this opportunity to up the ante in terms of continuing to earn and nurture their employees' trust.
Get advice from 50 global IC experts on how to transform your senior leaders & managers into exceptional communicators.
Download our FREE global report for insights, advice and pointers on how to work with senior leaders & managers to build communication confidence and capability at the top.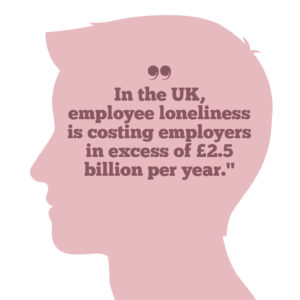 In South Africa alone, the effects of rapid urbanisation, crime and historic social displacement are exposing defined cracks.
Our millennials – in schools, universities and the workplace – are struggling to feel connected. And it's the lonely employees who tend to underperform or quit.
In the U.K. this phenomenon is said to cost employers in excess of £2.5 billion per annum. It stands to reason, therefore, that Britain has appointed a Minister of Loneliness, to mitigate the devastating effects of this chronic condition.
In the U.S. research by Brigham Young University even places the heightened risk of dying from loneliness alongside that of alcoholism and smoking 15 cigarettes a day.
The growing call for vulnerable leadership is therefore warranted, to create a culture conducive to inclusivity.
Leaders who are intentionally vulnerable tend to elicit like behaviour from employees. And it's in this environment that employees start to thrive, feeling free to be their authentic selves.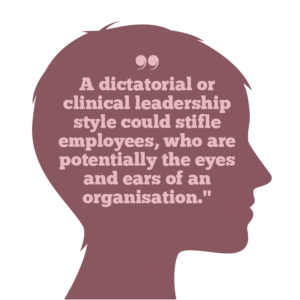 In a culture void of vulnerability and authenticity, employees tend to resort to reticence and even apathy.
A dictatorial or clinical leadership style could stifle employees who, as an invaluable resource, are potentially the eyes and ears of an organisation.
In the long run, this could result in the loss of great insight and innovation from employees. The business would also stand to lose long-standing customers, credibility amongst industry peers, and eventually, profits.
Vulnerable leaders can rest assured that their employees generally have their backs.
Authenticity clinches currency status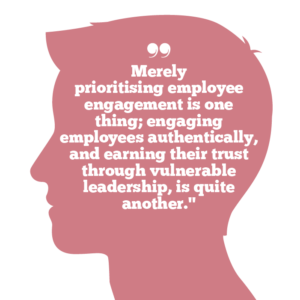 Liqui-Fruit hits the nail: "In a world filled with fake, nothing's more precious than real!"
My sense is that, in recent years, we as a profession have at large been backing off from many of these critical comms aspects, focusing our talent and time on various channel-related matters connected to the growth and advancement in technology.
The clarion call for authentic leadership has reached a deafening pitch.
From customers – especially millennials – demanding authenticity from brands in the form of products and services to employees choosing to respond only to leadership that feels real, it's clear that authenticity has become a currency for success all round.
Merely prioritising employee engagement is one thing; engaging employees authentically, and earning their trust through vulnerable leadership, is quite another. Leaders can no longer afford to treat authenticity as a nice-to-have that cannot be taken seriously, due to its perceived lack of pragmatism.
Peter Bregman, a trusted U.S. adviser to top CEOs and management teams, draws a clear link between emotional courage and great leadership.
He elevates the former as the driving force behind anything significant that leaders achieve.
Bregman encourages leaders to allow themselves to feel, but then to be strategic and intentional about when and how they express those feelings.
Vulnerable leaders find it easier to ask for help from their teams who, in turn, support them readily.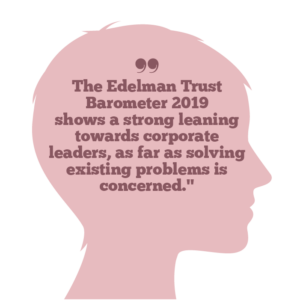 It's unfortunate that in business, authenticity and vulnerability are yet to be allocated a rightful place 'at the table', alongside heavyweights like agility and synergy.
Instead, these critical components of the moral compass have suffered unspoken dismissal.
But, we need look no further than recent business disasters and exposés that have played out against a backdrop of a grave lack of governance, to be reminded that had authenticity and integrity been prioritised as significant drivers of business decisions, those disasters may just have been averted.
Interestingly, the Edelman Trust Barometer found that it's the developed markets that show a stronger sense of gloom.
In Japan, 84% of the general public – excluding those with a college education – do not believe they will be better off in five years' time. In France it's 79%, Germany 74%, and Britain 72%.

Respondents show a strong leaning towards corporate leaders as far as solving existing problems is concerned.
Post-truth politics has wreaked untold havoc when it comes to trust, hope and overall morality. Restoring a lack of trust – or worse, broken trust – is no mean feat.
Therefore, corporate leaders have a critical window in which to prove their mettle and with accountability, vulnerability and authenticity as their rudder, business may just win the day – sustainably so.
Catherine Milward-Bridges
I'm the founding director of The Air Quotes Project, a strategic communications business that seeks to entrench authenticity through content and public speaking. My communications experience of more than 10 years spans corporate and government communication, and largely everything in-between. Learn more about my work with The Air Quotes Project over on our website.
Get in touch today to find out how we could help you transform your leaders and managers from average, to exceptional!
Got a brilliant idea you simply can't keep to yourself?
We're always looking for fresh faces to help us further the IC conversation by writing guest articles for our blog. If you want to make your voice heard on internal comms, employee engagement, change management or leadership development, we'd love it if you got in touch!
-
We're on cloud nine after being announced the winners for Best Employee Event alongside our clients Anchor Hanover at the IoIC virtual Awards 2020.